19 Oct 16
9 Magic Tips to Live with Style in Your Courtyard
With the warm weather approaching in Melbourne, now is the perfect time to spruce up your courtyard area and get it ready to entertain friends and family. Get rid of all the cobwebs with a good outdoor broom, hose down the dust, throw away all the clutter that has collected over the cooler months and consider repainting your old outdoor setting. If, once your outdoor area is clean, you find it's now a blank canvas, use some of these simple styling tips to inject some personality into the space and create a spot you want to use.
1. Use the vertical space
Treat the outdoors and your courtyard like the inside of your home and look at using vertical spaces like walls and fences for storage and/or decoration. A courtyard is generally enclosed by four walls, sometimes from a neighbouring building, so you should have something to work with. Choose items that are made of natural materials or are hard wearing, like these wooden artworks, so they can stand up to the elements, and hammer in a hook.
2. Feature pots
Pots can be your best friends when looking for easy ways to style your courtyard. Choose a colour that complements your decorating style or your chosen plants. Here, chartreuse yellow offsets the green of the succulents, creating a fun, bold feature in the courtyard.

You can use pots of all shapes and sizes, setting some on a table, on the floor, or on bench seats. An eclectic mix of shapes, sizes and colours adds interest and a sense of frivolity.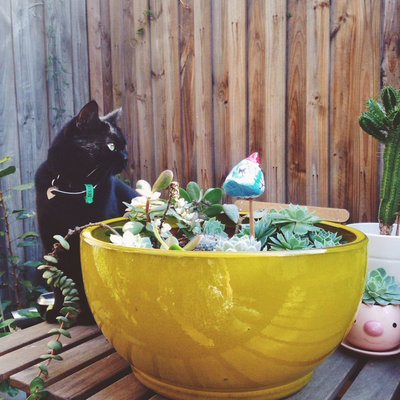 3. Throw on some cushions
Cushion addicts needn't avoid softening up the outdoors – style up chairs and benches with some fresh colours, prints and patterns. Choose a range that uses UV-protected, waterproof material so they last throughout the summer, and pick a style that complements the design scheme of your home's interiors for a more cohesive look.
4. Add transitional seating
Just like you would in your living room, have some transitional pieces of furniture in your outdoor areas, that can move around and provide flexibility depending on your entertaining needs. Outdoor chairs that can fold down or stack up when not in use are a good suggestion. Or consider multi-purpose pieces that can move around the house, be it exterior or interior, to be used as seating, tables, storage and more – a storage chest is a great example.
5. Lay down an outdoor rug
To add another layer to your exterior styling, opt for an outdoor rug. A rug will help zone a space, provide some texture underfoot as well as adding colour and interest. Just make sure to select an outdoor rug that's made from a durable, weatherproof material and preferably place it where you have some sort of overhead protection from the elements.
6. Go green
Consider adding an abundance of green-only plants to garden beds and pots. It creates a mini oasis and a feeling of coolness and lushness, especially welcome on long, hot summer days. You could even include heat-tolerant herbs and vegetables such as basil, mint, coriander and tomatoes. The ripened tomatoes will provide a nice punch of red among all the green, but you'll be picking them almost immediately. Novice gardeners needn't panic, you can pick up herb pots and vegetable plants in your local garden centre.

TIP: Mint can quickly take over your garden and is hard to get rid of if it gets into places you don't want it. Always plant my mint in a pot to ensure there's no escaping.
7. Zone it
So that you get the most out of your space, style it according to a particular purpose. First, have a think about how you use your outdoor area. Do you prefer lounging and relaxing? Or do you entertain regularly and need at dining table? Maybe you have parties where everyone prefers to mingle and stand. Answering these questions is an easy way to guide your outdoor scheme in the right direction to suit you and potential guest and will help your outdoor furniture shop no end.
8. Keep it simple
Styling doesn't just mean adding things to space. It can be as simple as removing unnecessary items to create a peaceful little pocket in your courtyard. Stick to neutral and earth tones, choose natural materials for your furniture and keep adornments to a minimum. This will be the perfect spot to escape after a long day in the office, or an ideal place to sit and relax with friends and family.
Laara Copley-Smith Garden & Landscape Design
9. Light up with lanterns 
Create a mood and finish off your courtyard by including a string of outdoor lights or even battery-powered lanterns. Lighting sets an instant mood and is the perfect enhancement when entertaining. There are so many varieties on the market now, many of which are solar-powered, so all you have to rely on is the sunshine to charge the batteries.
Add style and comfort to your courtyard with outdoor cushions
Shop a wide selection of outdoor chairs
Set the mood with outdoor lighting